how to check land registration online: In nowadays, Uttar Pradesh Land Record Department provide Online services to the Uttar Pradesh People. Online Land Record Verification service published by Uttar Pradesh Land Record Department. You can check Uttar Pradesh Bhulekh Online Khasra Khatauni Naksha (MAP) and can check other services of Uttar Pradesh. Our team provides a all information regarding UP Bhulekh Online Khatauni Yojna. We will help you to find some important information regarding how to apply in this yojna and how to take advantage from this yojna. Various e-governance ambitious to publish yojna like Bhulekh by Government.
Digital India Land Record software is aim to transfer the land record system to all over in the country. Bhulekh system of Uttar Pradesh is an innovative model of cloud technology. The Bhulekh system is low-level service delivery with transparency. RORs is updated without any manual intervention in the respective Khata. ROR Khatedar is integrated with the bank, it may transfer the subsidy and financial aid to the eligible candidates. it is very useful for Uttar Pradesh State. The Bhulekh system is the mixture of Revenue Court Computerization Management System (RCCMS), Registry Office and UIDAI Web Service. if any person is interested to sell him any property, now all the ROR records are available at a registry office. RCCMS is issued a notice to receive the objection.
UP Bhulekh Online Khatauni Nakal
UP Bhulekh Yojna authorized by Uttar Pradesh Government, it is an online entrance. in which entrance contains all the land record in digital format. we advised to all the interested person to follow the given steps for details. we will provides you some detail of Uttar Pradesh Bhulekh Entrance Services.
Online Khasra Khatauni Nakal
Bhu Naksha (Map)
Online Verification
UP Bhulekh Online Khasra Khatauni Nakal
check khasra no in up: For to check Khatauni Nakal Follow these steps,
First of all Visit this link

upbhulekh.gov.in

provided by UP Government.
If the entrance opened then click on this tab 'Khate ki Nakal Dekhe'.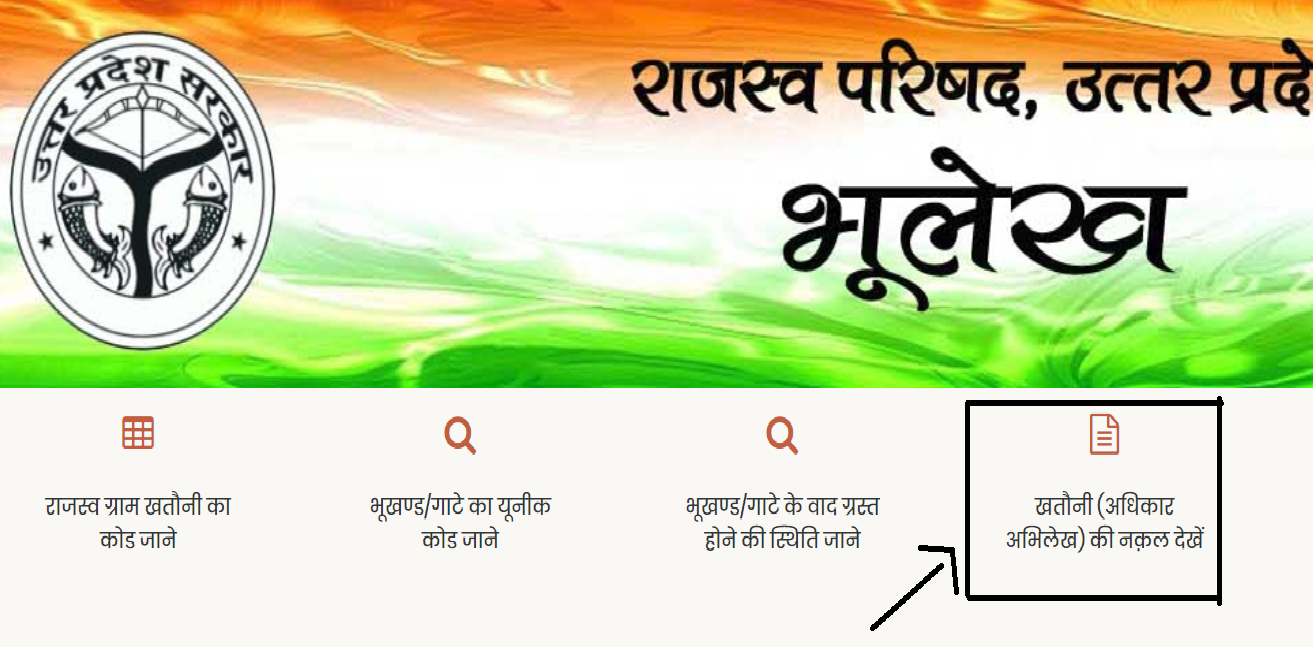 3. After you can see one screen, it contains captcha code. if any case entered captcha code is wrong then you can click on the refresh button. If You entered incorrect captcha then Government will notify you 'This is incorrect captcha'. you can see the example of captcha in below screen. captcha code is in the Numeric and alphabetic mixture.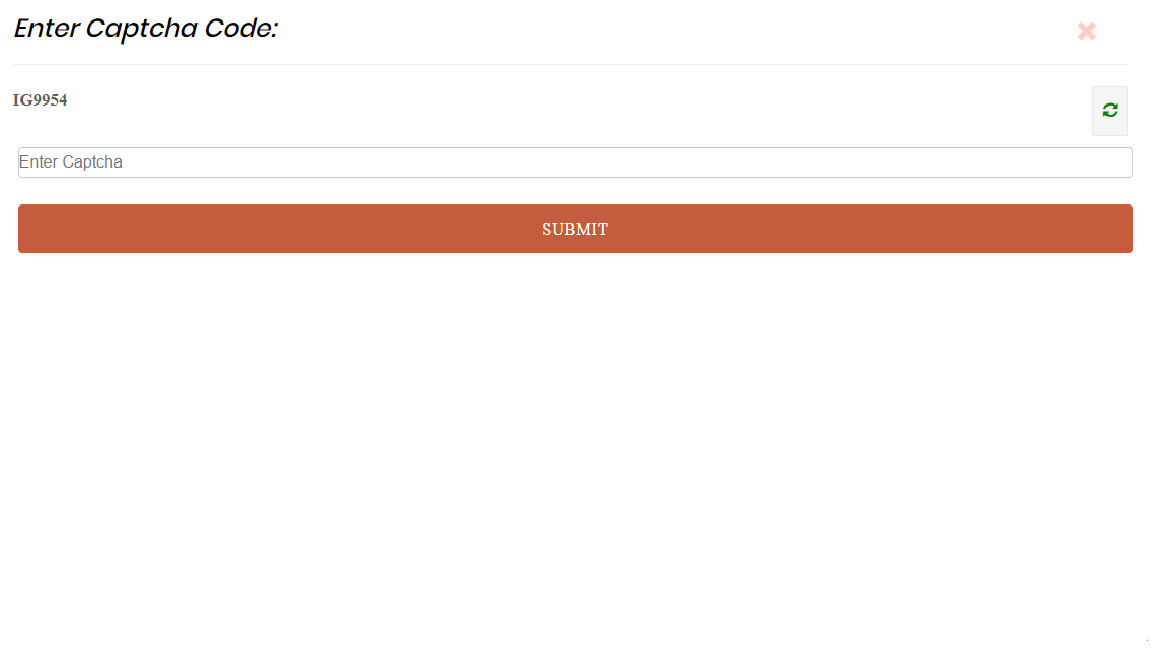 4. After entered captcha code you will have to click on the submit button.
5. Now in an opened new page, where you will have to select District, Tehsil And Village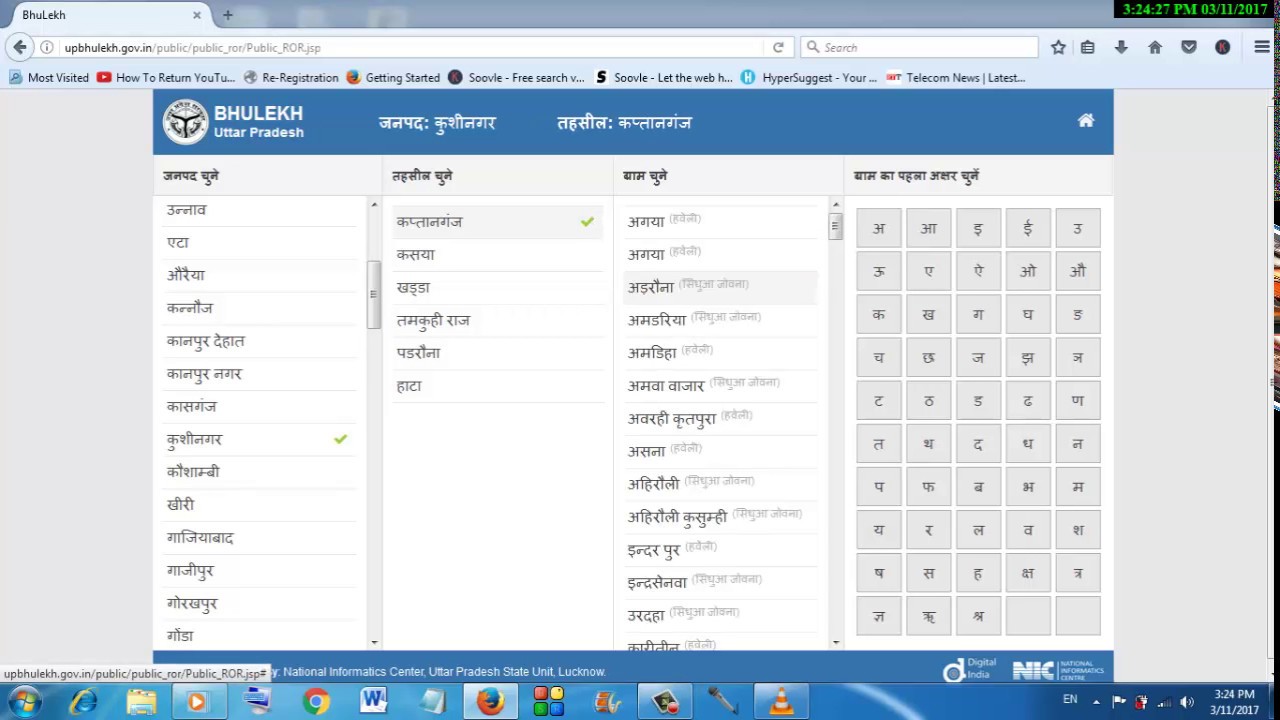 6. After you will get 3 options from it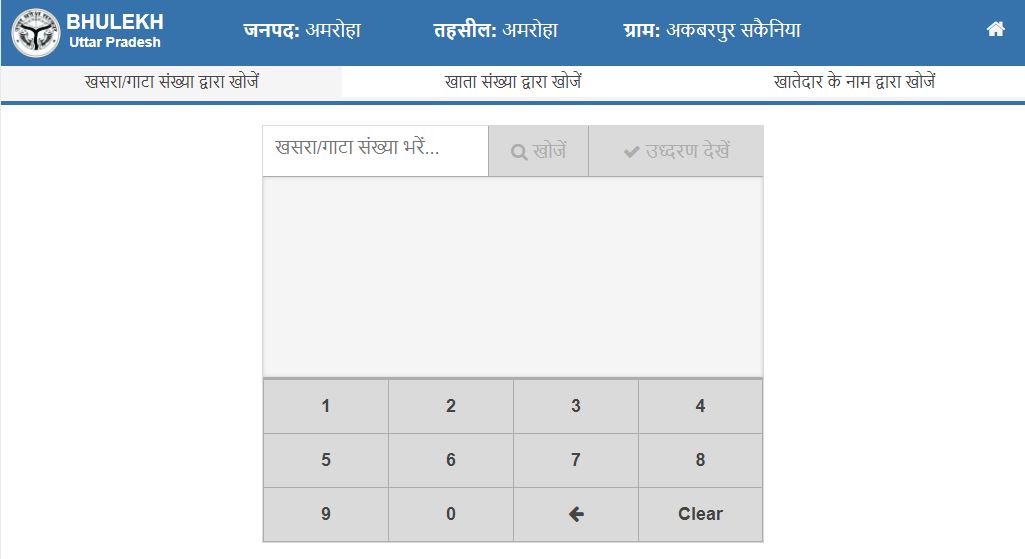 7. Choose the appropriate tab and enter the detail you required.
8. Click on the Right Up Corner of below screen and choose that option to go ahead in this process.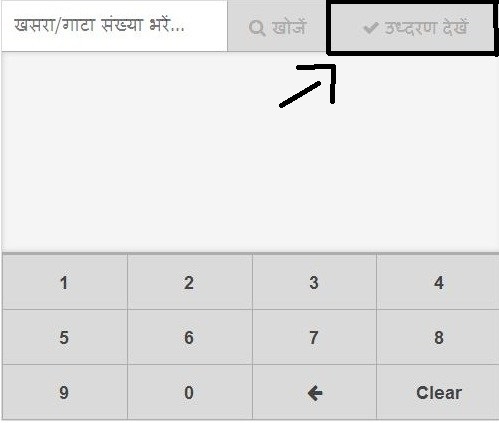 9. Now you will see copy of Khatauni at online and details of your khata. Khatauni copy looks like below.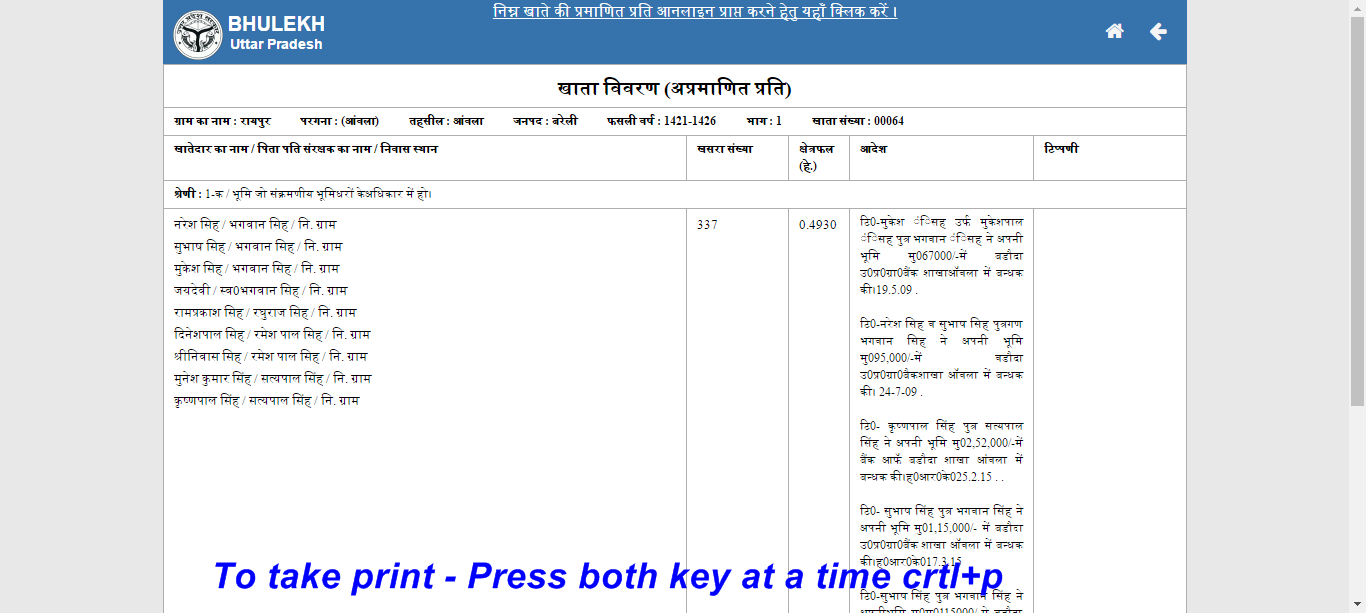 10. To verify the UP khatauni Nakal, follow the below steps. Verification can be done by two method.
1. Verification Method 1 : a. Visit the Jan Suvidha Center or Lokvaani Center.
b. To get the verified copy pay Rs.30 to the official.
2. Verification Method 2 : a. Firstly, Visit this link uponline.up.nic.in.
b. Then you will have to completion of Registration and process of LogIn.
c. Now You have to enter the Application Number in the appropriate space.
d. Now you will get copy of your Bhulekh khasra Khatauni.
e. You can get Print out for further use.
This all above information has been helpful to all the interested people in bhulekh khatauni, we hope so,. above detailed information through you can check ' Khasra Khatauni Nakal ' and ' Verify Nakal'.
Purposes of Government to produced Bhulekh Khatauni
This type of services change the life style of citizens, in efficient way to empower the society ans also to create knowledge hub. other services such as caste certificate, income, domicile, birth certificate, death certificate, UIDAI, PAN, NDLM, Pradhan Mantri Dhan Jan Yojna etc,.
people are empowered by this type services and take government benefits. Government surveys new policies and services for people interest. Through this type of services, Government get more income source so, you can say this services are for getting income.
online registration can saves the time, paper and cost of the stakeholders. with bhulekh system Bank, registry, revenue court and aadhar are connected.
India's IT organization, National informative centers was developed and implemented mixture bhulekh software for revenue department of uttar pradesh government.
Uttar Pradesh purpose is to deliver the khatauni service by simplifying the process life cycle.
The main purpose of this khatauni service is to provide ROR service benefit to public at anytime by NetBanking.
In other ways you can say the government other purpose is to curtail the interaction of citizens to government office.
Government is to make availability of updated Khasra Khatauni in public domain at run time.
Various Services of government is stands for complete transformation of existing culture.
The Bhulekh system makes efficient delivery of services such as Registry, Subsidy, Loan, Financial Aid, Fasal Beema, Kisan Beema services etc,.
Bhulekh Software as an evolutionary model of transformation through e-Governance and m-Governance.
Features of Bhulekh System
Khasra Khatauni service contains the complete information about the Land Record.
Quick Response (QR) makes Khatauni services more secure and tamper proof. to verify the validity of khatauni service QR code is used but, QR code is read by mobile only.
In now updated RORs inked signature are not required.
Without Digital Signature, in RORs change is not permitted.
When Government updates RORs, that available in public domain.
Old Khatauni service in PDF format and also stored in database in encrypted format.
Bhulekh service is integrated and it would facilitate to locate the particular land parcel.
Without any type of delay, immediate data synchronization may done.
The system is Scalable, Reliable, Available, Secure, Throughput and Interoperable and trusted etc.
Bhulekh Software developed in open source technology. you can purchase it without any cost and its license is free to use.
Important Links
We Provide you Important direct link to check Khasra Khatauni Nakal and Verified Nakal.