Prime Minister Agriculture Crop Insurance Scheme: Agriculture in India is highly susceptible to risks like droughts and floods. It is necessary to protect the farmers from natural calamities and ensure their credit eligibility for the next season. For this purpose, Govt. Of India launches many agricultural schemes throughout the country. Pradhan Mantri Fasal Bima Yojana is a new crop scheme introduced by government of India in November 2016 to overcome all the shortcomings or weaknesses that lied in the previous schemes. The new scheme is in line with "one nation-one scheme". It is implemented through multi agency frame work by selected insurance companies under the overall guidance and control of Department of Agriculture, Cooperation and Farmers Welfare (DAC & FW), Ministry of Agriculture and Farmers Welfare ( MoA & FW ) , Government of India and the concerned state in co-ordination with various other agencies ; viz financial institutions like Commercial Banks , Co-operative banks , Regional Rural Banks and their regulatory bodies . This scheme incorporates all the improved and best features as compared to all other older schemes.

Fasal Bima Yojana replaced especially two older schemes namely National Agricultural Insurance Scheme (NAIS) introduced in 1999 and modified NAIS introduced in 2011.

pradhan mantri fasal bima yojana online apply



The objective is to provide financial support and insurance coverage in all the possible manner to farmers in the event of failure of any notified crop as a result of natural calamities, pests and diseases. Due to one or more reason or the profit of farmers this scheme looks even more beneficiary as compared to other schemes. Such as to stabilize the income of farmers to ensure their continuance in farming, to encourage farmers to adopt innovative and modern agricultural techniques. To ensure the flow of credit to the agricultural sector which will contribute to food security, crop diversification and enhancing growth and competitiveness of agricultural sector besides protecting farmers from production risks. The Seasonality discipline shall be same for loanee and non-loanee farmers.

The scheme ensures farmers against a wide range of external risks — drought, dry spells, floods, inundation, pests and diseases, landslides, natural fire and lightning, cyclones etc. Apart from yield loss, this scheme also covers post-harvest losses up to a period of 14 days. PM Fasal Bima Yojana Covers Kharif, Rabi, Annual commercial as well as horticultural crops. The farmer's part of premium is 2%, 1.5% and 5% sum assured respectively in above schemes. The remaining part is paid by the central or state governments.

Private insurance companies will be roped with the Agriculture Insurance Company of India Ltd. (AIC). This scheme proposes mandatory use of remote control sensing, drones and smart phones for quick estimation of Crop loss. The aim is to bring 50% farmers under the scheme by 2019. The expenditure of this scheme is funded through Krishi Kalyan Kosh in which money obtained through Krishi Kalyan Cess is credited.

There will be no upper limit on government subsidy. Even if the premium is 90%, it will be borne by the government.

PMFBY Online Application | Pradhan Mantri Fasal Bima Yojana Online Registration
There has baan lot of queries and searches regarding Pradhan Mantri FBY Online registration and Application. We are happy to help you and guide you for the following issues.
Applicant must be citizen of India to access and register as proposer in crop scheme
Follow the link http://agri-insurance.gov.in/Login.aspx#
Click on 'farmer application'
New function will open if registrations are available otherwise you'll see mobile number, otp and captcha code
Signup or signin as per desire and requirements.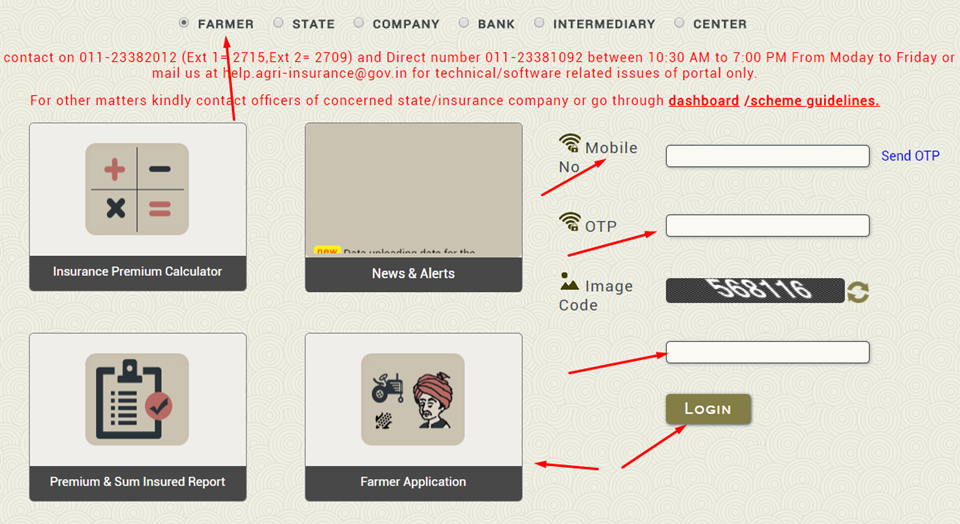 Pradhan Mantri Fasal Bima Yojana Scheme Benefits and Objectives
PMFBY will provide a complete insurance cover against failure of the crop thus helping in soothing the income of the farmers and inspire them for acceptance of innovative performs.
The Scheme can cover all Food & Oilseeds crops and Annual Marketable/Gardening Crops for which past produce data is available and for which mandatory number of Crop Cutting Experiments (CCEs) will be focused and being a part of the General Crop Estimation Survey (GCES).
The scheme is enforced for loaner farmer finding Crop Loan /KCC account for notified crops. However, intended for Other/non loanee farmers who have insurable interest in the insured crop(s).
The Maximum Premium payable by the farmers will be 2% for all Kharif Food & Oilseeds crops, 1.5% for Rabi Food & Oilseeds crops and 5% for Annual Commercial/Horticultural Crops.
The variance between premium and the rate of Insurance charges due by farmers shall be shared equally by the Centre and State.
The seasonality discipline shall be same for loanee and non-loanee farmers.
The scheme will be applied by AIC and other empanelled private general insurance companies. Selection of Implementing Agency (IA) will be done by the concerned State Government through bidding.
The existing State Level Co-ordination Committee on Crop Insurance (SLCCCI), Sub-Committee to SLCCCI, District Level Monitoring Committee (DLMC) shall be responsible for proper administration of the Scheme.
The Scheme shall be applied on an 'Area Approach basis'. The unit of insurance shall be Village/Village Panchayat level for major crops and for other crops it may be a unit of size above the level of Village/Village Panchayat.