India is one of the biggest countries in terms of population in the wold. Therefore, it is not easy to reach everybody's regular necessities. Though, not impossible. The government of India is trying to develop the network that can every corner's individual in the country. Electricity, water, gas are the prime requirements of any individual in any country. Especially in India it is tough to give these facilities to everybody because the India is a Developing country and not Developed Country.
More than 24 crores of households are there in India, out of which around 10 crore households are still deprived of LPG fuel for cooking. They use coal, dung, firewood, cakes etc which is neither reliable nor economical. The pollution created by the above-mentioned techniques for cooking are hazardous for their own household and neighbours. It creates respiratory problems to their women and children. According to a report by World Health Organization, the smoke produced and inhaled by the women is as equal to smoking 400 cigarettes a day, which is more injurious than we can even think. For reducing these miseries and improving human life in these areas The Government of India has launched UJJWALA YOJANA.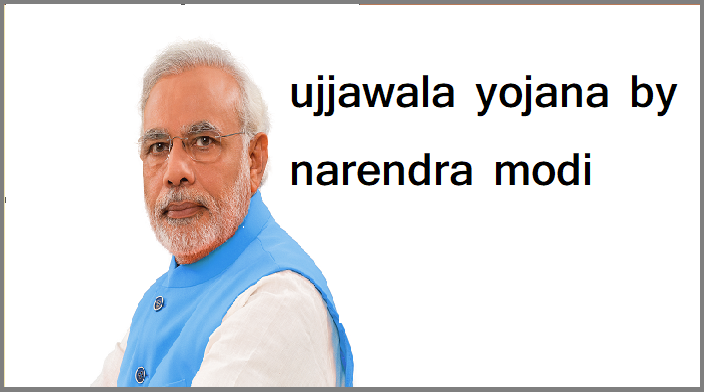 ujjawala scheme Information WIKi
On 1st May 2016, government of India Launched this scheme in Ballia, UP and they are aiming to deliver 5 crore LPG connections with a financial support of 1600/- rupees per connection by next three years. Ensuring women's safety and empowering Women's status in the society, connections in these schemes will be issued in the name of the women of the household. Around 8000 crores have been allocated for implementing this scheme. Identification of the BPL families will be done through Socio Economic Caste Census Data.
This scheme is likely to introduce more than one lakh new jobs in the country as the manufacturers of cylinders, gas stoves, regulators, gas hoses are domestic only. This will also bring the business of around 10,000 crores in next three years. The government has decided to give advantage of this scheme to the following too.
Beneficiaries of PM Aawas Yojana (Gramin) SC/ST

Forest dwellers

Antoyoday Anna Yojana

People residing in islands and river islands

Most backward class
North Eastern States and Hilly Areas are now the main priority of this scheme as government is focusing mainly to provide these corners of India as a prime focus. This will effectively help the people residing in the states of Arunachal Pradesh, Meghalaya, Assam, Mizoram, Nagaland, Manipur, Jammu & Kashmir, Uttarakhand, Himachal Pradesh, Sikkim etc.
ujjwala yojana help line number
24 hours helpline number 18002333555 or 1906 is given for any kind of inquiry.
For downloading scheme participation forms, please follow the link.
Form and KYC form are available in Hindi and English. It is mandatory to fill the form in the prescribed format.
Women of the prescribed households can contact the nearest LPG distributor with the Jan Dhan Account details, Aadhar Card Numbers of all the Family members. The woman will need to submit residential detailed address.