Pradhan Mantri Accidental Insurance Scheme: Government through the budget speech announced three ambitious social security schemes concerning to the insurance and pension sectors. Namely Pradhan Mantri Jeevan Jyoti Bima Yojana(PMJJBY), Pradhan Mantri Suraksha Bima Yojana (PMSBY) and Atal Pension Yojana (APY) to move towards creating a universal social security system targeted especially for the poor and under-privileged. Honourable Prime Minister launched PMJJBT & PMSBY in Kolkata on 9th May, 2015.

Pradhan Mantri Jeevan Jyoti Bima Yojana is a one-year life insurance scheme, renewable from year to year, offering coverage for death due to any reason and is available to people in the age group of 18 to 50 years (life cover up to age 55) having a savings bank account.

Pradhan Mantri Life Insurance Schemes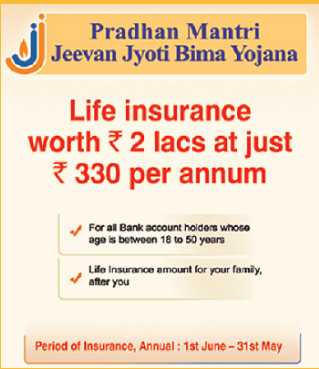 It's a life insurance scheme that covers death of the insured regardless the cause of death. It provides a cover of 2 lakh rupees for Natural death and or death by accidents. Like other schemes introduced as Pradhan Mantri Suraksha Bima Yojana and Atal Pension Yojana, this scheme also has the benefit of linking it with bank accounts. That means at the time of premium, the amount will be automatically debited from the savings account of the Subscriber. Initially, there is no amount in the JAN DHAN YOJANA accounts. By applying this scheme government is aiming to reduce the number of such zero accounts.

Under PMJJBY scheme, life cover of 2 lakhs is available for a one-year period starting from 1st June to 31st May at a premium of just 330/- per annum per member and renewable every year. It is being administered through LIC and other Indian Private Life Insurance Companies. For enrolment, banks have tied up with insurance companies. Participating bank is the master policy holder.

PMJJBY Benefits | Pradhan Mantri Insurance Apply Online

Pradhan Mantri Life Insurance also known as PM shuraksha Bima Yojana has tremendous benefits for Indian Citizens. We have mentioned the following selected benefits that would be helpful for you to choose if you want to subscribe for PMJJBY or not.
---
The assurance on the life of the member shall terminate if the age of the person attains 55, i.e. last renewal period and entries for the scheme are therefore not allowed beyond 50 years.
---
A person can join PMJJBY with one insurance company with one bank account only.
---
According to the rule, anyone can opt out at any time from the policy and re-join in the future.
---
Individuals who exit the scheme at any point may re-join the scheme in future years by paying the annual premium and submitting a self-declaration of good health.
---
As compared to other term insurance policies, this scheme offers the lowest premium per year i.e. 330 per year. Moreover, the premium is same for all age groups ranging from 18 to 50.
---
The claim settlement process offered by the policy is very simple and user friendly.
---
In a few cases the policy can be terminated. Like if the insured person is above 55, if the subscriber doesn't have the sufficient balance and if the policy holder is insured through different banks.
---
As a government backed up policy with a very low premium per year, this scheme is very advantageous for the people with very low income.
---
This plan provides security to the family of the individual against any kind of eventuality.
---
The plan has simplest kind of enrollment and switching.
---
The best thing is anyone with lower income can opt for this scheme and because of the lowest premium rates nobody will be hassled for opting this scheme.
---
pmjjy vs pmsby
The plan efficiently secures the financial future of the individual and provides a backup so that they can fight again any kind of eventuality. This is certainly the best scheme to take for the low-income society. One thing to remember about this scheme is a person can join this scheme with only one bank account and this only policy. As we know that participating banks are the master policy holder, a simple and subscriber friendly administration and claim settlement policy is to be finalized by LIC or other insurance company in consultation with participating bank.
There are minor differences between the two schemes PMSBY & PMJJBY varies in age period and premiums. But the important one is that, first one is accidental /death or disability insurance whereas the latter one is given on death only regardless of the reason of death.
The scheme will be a one year cover, renewable from year to year, Insurance Scheme offering life insurance cover for death due to any reason. The scheme would be offered / administered through LIC and other Life Insurance companies willing to offer the product on similar terms with necessary approvals and tie ups with Banks for this purpose.
Important Links:
PMJJY Application Form Online PDF (English)
PMJJY Application Form Gujarati 
PMJJY Claim Form (English)