Ma Card Yojana | Gujarat government health insurance: For the people living below the poverty line and lower income group. An illness always represents a threat to their lives and sometimes the situation becomes horrible. It puts these people into a well of debt, in most cases they think about the financial problem and they delay the treatment. In case of severe health strokes, they ignore the diseases due to lack of resources. Mukhyamantri Amrutam Yojana is a tertiary care scheme for Below Poverty Line (BPL) population of Gujarat. the following illness will be served completely cashless on the mentioned hospitals. The Mukhyamantri Amrutum (MA) Yojana is fully sponsored and handled by the government of Gujarat

Cardiovascular patients,


Renal (Kidney) issues and obligations,


Neurological related patients,


Burns victims,


Poly-Trauma patients,


Cancer (Malignancies) victims


Neo-natal (newborn) diseases which cover 628 defined procedures along with their follow-ups

Breaking News: MA CARD and PM-JAY Yojana Benefits cut cown
195+ Diseases Won't Be Covered on Private Hospitals. Patients and candidates of MA CARD as well as Pradhan Mantri Jan Arogya Yojana's has to visit government hospitals for certain diseases. those diseases would be in general like dental, rental, plastic surgery or most probably minor operations. Team iYojna will update all the Govenment and Private hospital lists as soon as official statement published by government. Keep visiting.
To avoid this vulnerability faced by the BPL population in Gujarat, Mukhyamantri Amrutam 'MA' Yojana was launched on 4th September 2012, by Government of Gujarat (An initiative of health and family welfare department). There are families in India who belong to Lower Middle Class and these people don't come in a definition of BPL. They are not able to pay for critical illness. So, after reviewing a lot of stakeholders, the scheme was extended for all the families having an annual income of Rs. 1.20 Lakh per annum named "Mukhyamantri Amrutam Vatsalya" in August 2014. On October 2017 the limit for MA VATSALYA beneficiaries was increased 1.50 lakhs to 2.50 lakhs. According to the Gujarat Government Health Department, this is one of the best Gujarat government health schemes available for every citizen of the state of Gujarat.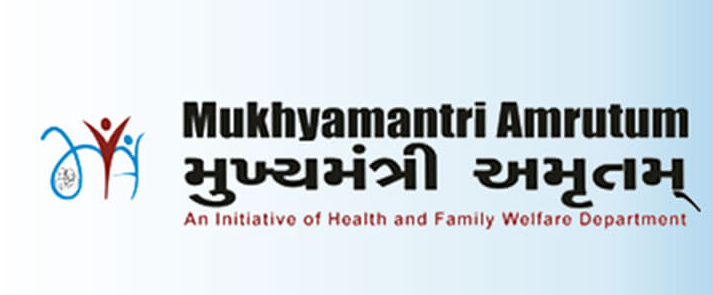 This scheme provides free/cashless medical services to the people of BPL and those who earn 2.50 lakhs or less than that a year. All beneficiaries can avail claims related to….

Neurological diseases


Burns


Poly-trauma


Cancer


Neo-Natal (new-born) diseases which cover 628 defined procedures along with their follow-ups


Cardio-vascular diseases


Renal (Kidney) Diseases

The sum assured per family is 2,00,000 per annum. Rs. 300/- is paid to the beneficiary as transportation charges for every instance of availing treatments from the impanelled hospitals. To avail the benefits of the schemes, every family has a QR coded card (quick response coded card). this card contains the photograph of the head of the family, Unique registration number, district name, taluka name, village name and Biometric Thumb Impression of all the enrolled family members. All the details are stored on a central server which can be fetched anytime. MA VATSALYA card is compulsory for everyone who needs treatment.

There is no insurance hence there is no scope for any intermediary to make illegal profits. All the expenses are borne by the state government itself.

Who is eligible under "MA" Yojana?


The beneficiary who is from Below Poverty Line (BPL) family and whose information is included in the district BPL list prepared by the State government rural development department and urban development department. The eligible family needs to come to the enrollment Kiosks and the identity of the household head needs to be confirmed by the authorized official.

Families are having an annual income up to Rs.2.50 lakh,
All urban & rural ASHAs (

Accredited Social Health Activist

),
Reporters
Fix pay employees of class-3 & 4 appointed by the state government
MA Amrutam Yojana BENEFITS | www.magujarat.com
For the enrolment of the beneficiaries, taluka kiosks and city center kiosks are installed at the civic centers. List of BPL families is available on the official website based on their yearly income. They can avail the card mentioned above. Private hospitals, government hospitals, and standalone dialysis centers are impaneled to avail benefits of the scheme.

This scheme is cashless, so there is no chance of beneficiary, falling into debt and unexpected expenditure of medical emergencies.

Paperless claim processing for early claim settlement.

All the hospitals are accredited by one or more authorized Governmental Bodies approved by the International Society for Quality in Healthcare.

For smooth and transparent financial transactions of hospital claim, payments are done directly through RTGS by State Government.

ma card application form and how to apply online on www.magujarat.com
Eligible BPL families list is made available under the online BPL search page on www.magujarat.com
website. The same list is used by the vendor engaged for enrollment under "MA" Yojana. For "MA Vatsalya" Yojana there is no pre-defined list of families. However, based on their income certificate (annual income up to Rs.2.50 lakh) the data of "MA Vatsalya" is generated and stored at the "MA" server. For the enrollment of "MA" and "MA Vatsalya" beneficiaries, kiosks at each Taluka and Civic Center have been established under the scheme. These kiosks are equipped with all hardware required for the collection of biometric information (fingerprints), photographs of family members, a printer to print MA/MAV card etc. The MA/MAV card along with an information pamphlet mentioning scheme benefits and list of empaneled hospitals is provided on the spot to the beneficiary family. Before the enrollment of a family each and every document of their eligibility is been checked by a designated Government Officer (Taluka Verifying Authority) and after his/her approval the card is been issued. The entire enrollment process takes maximum ten minutes. The card in a plastic cover along with the booklet is given free of cost to the beneficiary at these enrollment stations. In order to mobilize the maximum number of left out beneficiaries for enrollment State Government has also deployed Mobile kiosks in every district for a village to village enrollments.

Document List of MA Amrutam Yojana
Proof of Residential (Ration Card)


Identification Proof (Water ID card, Driving License)


BPL Certificate


Income Certificate

The eligible beneficiary can avail cashless treatment in case of emergency and can get treatment only in Government / Grant Aid networks hospitals if the unavailability of MA Vatsalya card. Beneficiary need not have to pay any amount for the issuance of the card so it's completely free.

Ma Amrutam Card Hospital List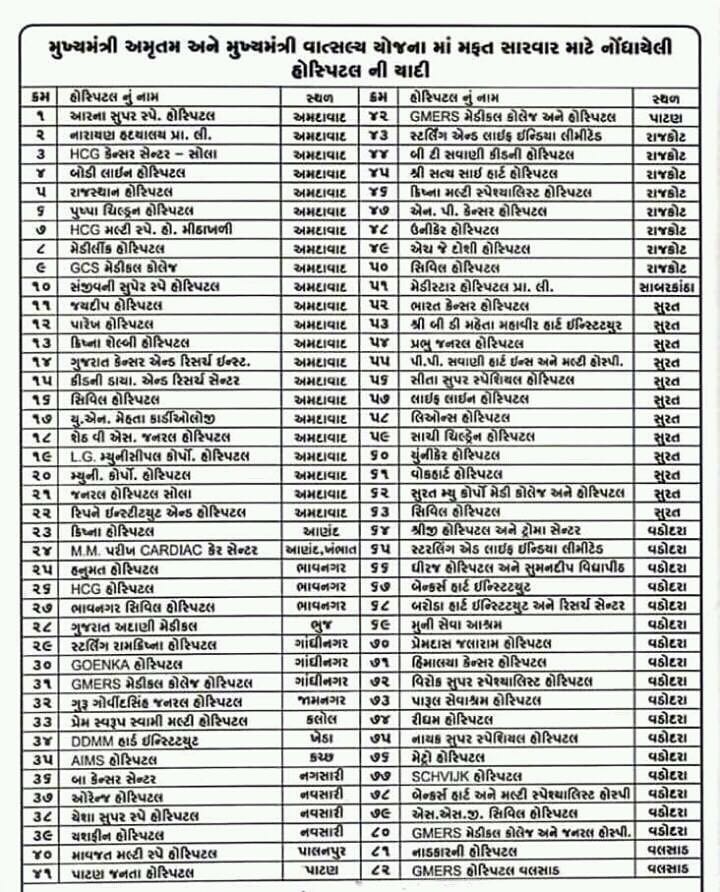 click here to save a full list of the hospital in maa amrutam yojana