Sometimes government offices become a place one would never want to visit without any personal work, because of the lengthy and hectic process to follow during the work. It is also not easy to find out government documents in particular offices in a few minutes. Avoiding these problems, the government is improvising day by day in it's 'way to work'. Employees' Provident Fund Organization (EPFO) has been doing a great work since the establishment. But, the time is changing and everybody needs to accept new ways that would help people lessen their problems and increase their trust in government organizations.
Some other governmental organizations have already upgraded their selves to new systems for filing provident funds. EPFO has decided to make provident fund and pension applications online for 10 lakhs or more and similarly 5 lakhs or more. Currently, this scheme takes time of around two to three months to complete and the paperwork has always been a tedious job to do in such organizations. No doubt it was the only option till now. The process of connecting all the field offices with one central server is taking place. PF applications and pension settlement process is completely available online on the official website.
UAN SERVICES | HOW TO GET UAN Number

Linking of Universal Account Number (UAN), with Aadhar card and Bank account number is the first process to claim the provident fund online.  Once, UAN is linked to the bank account and Aadhar number, the customer will be able to claim the PF through the official website, i.e. to be
www.epfindia.gov.in/
or
https://unifiedportal-mem.epfindia.gov.in/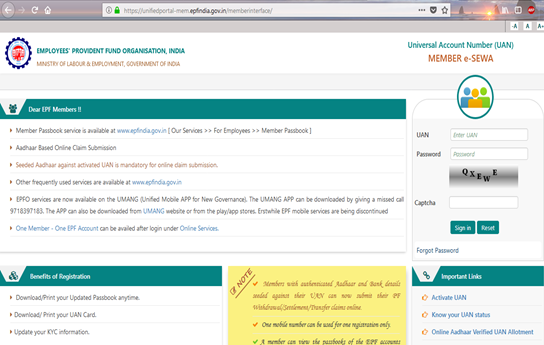 Log on to the website or UAN portal, Keep your KYC details in hand. the selection form will show up in which, one has to select the appropriate options under the tagline "I want to apply for". Only the eligible options will come on the portal.
Once you select the option of your particular claim, the application form will appear. The beneficiary will have to fill the form and authenticate it via OTP method. After the completion of the process, your bank account will be credited with the amount of the claim.

The paperless process will entirely change the aspect of applying for the provident fund. Currently, EPFO offices are handling more than 1 crore manually filled forms in order to provide respective PFs.


The process will leave no stone untouched as it will be beneficial for the people who have saved this amount for their entire life. Especially when it comes to the larger amount, the stress of receiving it is even more larger. Sometimes, cheques reached the wrong parties and sometimes it came too late. These disadvantages are about to overcome.


EPFO is about to give claims within 3 hours of applications once it is set online. The government gave EPFO about 20 days of the period to clear all the claims applied in a month.

As we saw in the picture, the process of claiming it online has already started for the linked UANs.

UAN Password Reset | Forgot UAN Number
Humans are made from err. sometimes employees forgot UAN Number as searches for how to reset UAN Password. we are here to guide you guys how you can reset your pf password online. follow the steps carefully.
Go to UAN's official website at UAN  Website
Click on Forgot Password. (1)
Enter your  UAN (2)
Enter Captcha. Click on Submit. (3)

The mobile number will appear. If you want to change the mobile Number you can click on No.
after that you will find your name, Date of Birth, KYC and doc information.
Enter your details. Click on submit near the identity.
After informations are verified. You can enter your new 10 digit's Mobile number and get OTP in it.
Then enter your Password two times (with special characters and one capital letter).
Now your password is succefully changed. login with new id and password.
EPF Passbook Download Online 
There is only one way to know about TOTAL PF balance is to have EPF Passbook Online. in which you know the full details of your Provident Fund balance. it is similar to your bank's Passbook, which shows the reduction and interest of PF per month as well. You are also shown this in the yearly interest and through PF passbook, you can know the exact amount of your PF. To download this pass book, follow the steps mentioned below.
log on to www.epfindia.gov.in
Click on FOR EMPLOYEES in OUR SERVICES.
After clicking here you will get another page where you will see a lot of options, from which you have to click on the member passbook option.
After clicking on the option of member passbook, you will have another page open where you have to login with your UN number and password.
Now as soon as you log in, if your passport is ready then your PF number will be shown to you.
your passbook will be downloaded and in the next page you will be shown a passbook where you will also be able to see the annual interest with your PF deductions and the total deposit PF of each month. If you have two or more PF numbers in one of your UANs, here you will see all PF numbers, then click on any PF passbook to download it.
How to Know PF Claim / Withdrawal Status Online
first of all you need to go to epfindia.gov.in and click on "EMPLOYEES". Here you will find the KNOW YOUR CLAIM STATUS option. After clicking here, you will see some such page open.
Here you have to fill UAN number and the captcha code appearing in the box here. enter your UAN Number and captcha code.
After completing this field, you need to click on submit, like if you see an attached PF number in the same UAN, then click on the PF number status you want to know, after which you will open another page where you will be told that Your claim status is whether the phone has been received or if the receipt has happened, you will receive a phone receipt and if not, then no record will be filed by FOUND and if any status is available You will look like the picture shown below
PF Claim Status On UAN Portal:
you can also know the latest status of your PF clearance in the UAN portal. If you have made an application for online PF clearance or then Advance BF clearance from the UAN portal, then you can know the status of your application. You will have to log on to the UAN portal, after your home page opens, you will be able to see an online service option. You will see the option of online claim and claim status as clicking on the claim status option, you will see the status of the application that you have applied, and from here you can know what is the status of your application.